Why Google AdWords are essential to Grow Your Business Online
SEO and Google AdWords are two essential for building and promoting brand. SEO is long lasting and take time for ranking and converting leads. But, Google AdWords help us to rank in the first page though for it is for a limited period of time. But, it helps to create brand awareness. Google AdWords help to grow your brand in an efficient way. The running ads might be a daunting task but the result we get is much worth of every penny that you have to spend on it. It has many reasons to use it for business growth. So, we have mentioned some of them here below. You will get an idea of why Google AdWords is essential to grow your business online in effective manners:
1) Adwords works faster than SEO
One of the best advantages of Google Adwords is that it works faster than organic SEO. In Google AdWords case, we can generate more targeted traffic and leads with accurate and appropriate marketing strategies. With Google AdWords, we can have the first spot in search engine which eventually drives more traffic. Adwords give us the opportunity to target multiple keywords, multiple locations.
Of course, SEO is effective and have long term benefits to the business. But, Adwords give us the chance to drive the targeted traffic within time, whereas SEO, it takes time to rank the website in the first pages. It requires well-written blogs, title, descriptions according to keywords research and thereafter we able to gain the page and domain authority.
Both are necessary but if you need to drive targeted traffic and leads immediately, AdWords is the better option for you.
2) Increase brand awareness
If your business is new, the first thing you should do is brand awareness. It is the first step of every business's marketing strategy. With Google AdWords, you will able to create brand awareness with the immediate effect.
Your SERP also depends on the number of your brand name searches. So, with the help of a brand awareness campaign, you can also increase the search engine ranking of your website.
3) Reach more customers through their Gmail Inbox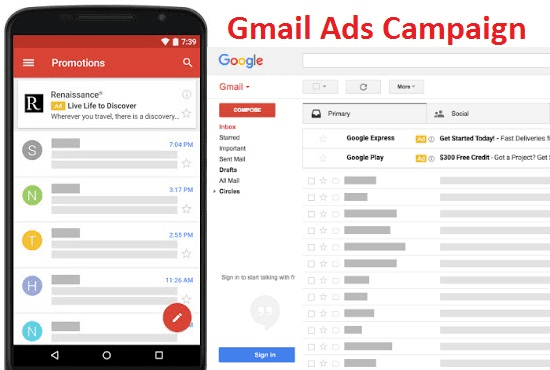 With Google Adwords, you can reach in the inbox of every user!! These ads usually appear on the promotional tab of Gmail as well as the social tab. If you want to reach the user's mobile and have a small budget, Gmail ads is a better option for you.
4) Reconnect with visitors by Remarketing
One of the attractive benefits of Google Adwords is that you can reconnect with the people who visited your website, also, display ads visitors, search ads visitors, etc. Isn't it cool??
Let's assume you have a shopping website. Some people visited your website, saw the products but didn't buy anything. You can target or remind them about your products. You can target these visitors by Remarketing and RSLA campaign.
Also, your display ad is active on display networks. If someone clicks on those ads but didn't buy and decided to leave it. They click on the ads means they are interested but some reasons they left without purchasing. So, these visitors might be your buyers. You can convert them into potential buyers with the help of remarketing.
In case of search ads, you just need to add queries keywords in the campaign. This will help to aim the targeted audience. Then google will show the relevant ads for the keywords which have been added to the campaign.
5) Measure your performance consistently
Google ads give you the upper hand as compared to traditional marketing. Traditional marketing such as newspaper, TV ads, flyers, etc is more expensive than Google Adwords. Also, you cant change the strategy while the campaign is running. In Google AdWords, you can know the source of the leads but this won't be possible in the traditional advertisement.
Due to this, Calculating ROI is a difficult task as compared to Google AdWords. In the case of Google AdWords, you would know who clicked on your ad, how many leads you got, etc. This would help the advertiser to change the campaign strategy if it won't work as our work expectations. If you link Google Analytics with Google AdWords account, you would get more data and ad analytics, It would help you to find what visitors do after visiting the ads.
6) Tackle your competition better
In the marketing world, you need to keep an eye on competitors. You need to see how they do promotional things.
See, if your competitor is running the ads and someone searches your products/ services on a search engine, the visitors definitely drive towards your competitor's ads. This means your competitor is grabbing the business.
So, you have to make a strategy and make your business stand out from your competitors.
Now, you know the reasons why Google AdWords ate essentially for your business growth. You just need Digital Marketer to work on it in an efficient way, right??
Then, connect with Digiflame Consultant, the best online marketing agency in Pune, Bangalore, Satara, India and grow your business online!!
We are known for our hard work and will give you the best result. Contact us at +918788475253 or email us at info@digiflameconsultant.co.in or digiflame14@gmail.com and get the best result from best search engine marketing service provider in Pune, Bangalore, Karad.